Dr. Daniel J. Siegwart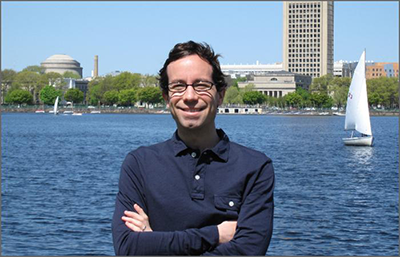 Daniel Siegwart is an Assistant Professor at the University of Texas Southwestern Medical Center in the Simmons Comprehensive Cancer Center and the Department of Biochemistry.  His research program is focused on developing advanced polymeric and lipid-based systems with precise control over macromolecular architecture, order, and responsiveness for applications in drug delivery, imaging, and cancer.
2008 – 2012: Postdoctoral fellow, Massachusetts Institute of Technology (MIT), Department of Chemical Engineering, Koch Institute for Integrative Cancer Research (Advisors: Institute Professor Robert Langer and Professor Daniel Anderson)
2003 – 2008: Ph.D. Chemistry, Carnegie Mellon University (CMU), (Advisor: University Professor Krzysztof Matyjaszewski)
1999 – 2003: B.S. Biochemistry, Lehigh University
Awards and Fellowships: American Cancer Society (ACS) Research Scholar (2017), Friends of the Comprehensive Cancer Center Award in Cancer Research (2014), Cancer Prevention and Research Institute of Texas (CPRIT) Scholar Award (2012), National Institutes of Health (NIH) Ruth L. Kirschstein National Research Service Award (NRSA) F32 Postdoctoral Fellowship (2010), National Science Foundation (NSF) East Asia and Pacific Summer Institutes (EAPSI) Fellowship at The University of Tokyo (Advisor: Professor Kazunori Kataoka) (2006), The Joseph A. Solomon Memorial Fellowship in Chemistry (CMU) (2005), Chemistry Department Research Honors (Lehigh) (2003)
Current Lab Members
Qiang Cheng, Ph.D.
Melissa Coquelin
Sussana Elkassih
Lukas Farbiak
Lindsay Johnson
Petra Kos, Ph.D.
Shuai Liu, Ph.D.
Jason Miller
Rhapsede Nolden
Tuo Wei, Ph.D.
Hu Xiong, Ph.D.
Kejin Zhou, Ph.D.
Lab Alumni
Jing Hao, Ph.D.

Postdoc, 2012-2014
Current position: Assistant Professor, George Fox University

Denise Bamberger

Visiting graduate student from Johannes Gutenberg–University Mainz, Germany, 2015
Current position: Boehringer Ingelheim

Atsushi Nagai, Ph.D.

Visiting professor, 2015
Former Position: Assistant Professor, Institute for Molecular Science, Japan
Current position: Associate Professor, Delft University of Technology, The Netherlands

Lian Xue, Ph.D.
Victor Tieu

SURF student, summer 2015
Former position: Undergraduate student, University of California at Berkeley
Current position: Graduate student, Stanford University

John Norman

High school research student, summer 2015
Current position: Undergraduate student, Texas A&M

Karina Kinghorn

Green Fellow and SURF student, 2016
Current position: Graduate student, University of North Carolina at Chapel Hill

Siva Venigalla

Khorana Bose scholar, summer 2016
Current position: Undergraduate student, Indian Institute of Technology, Madras

Bethanie Abram

STARS high school research student, summer 2016
Former position: High school student, Irving High School
Current position: Undergraduate student, Texas A&M

Gino Occhialini

QP SURF student, summer 2016
Current position: Undergraduate student, University of Texas at Dallas

Sergio Barrios

SURF BUILD Scholar, summer 2016
Current position: Undergraduate student, University of Texas at El Paso

Jonathan Minnig

Green Fellow and Research Technician, 2015-2016
Current position: Research technician, UT Southwestern

Yunfeng Yan, Ph.D.

Postdoc, 2012-2016
Current position: Assistant Professor, Zhejiang University of Technology

Kels Kaiser

Research Technician, 2016-2017
Current position: Clinical Research Coordinator, Radiation Oncology, UT Southwestern